NATURES HEALTH FOOD & CAFE
New Menu Items Just Added! Look for this symbol: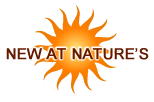 Discover an enticing variety of
nutritious, delicious meals
at our Vegan/Vegetarian café. We source our veggies locally and our flavors GLOBALLY to bring you everything from Asian-inspired stir-frys and hearty Italian pasta, to spicy Indian curries and Mexican-style burrito plates. And let's not forget everyone's favorite, the all-American burger! Try our
plant-based
take on this lunchtime classic that comes with all the "fixin's" -- the only thing missing is the meat!
Vegan Options, No Oil Upon Request
Looking for something to boost your morning? There's nothing like
whole plant energy
to help you power through your day. Try a signature juice belnd from our
Healthy Drinks
menu. Classic vegetable blends in any combination you can think of,
FRESHLY
pressed Pomegranate Juice, Wheatgrass shots, and more! Craving something sweeter? Our scrumptious
Smoothies & Shakes
are all naturally sweet, delicious and dairy free! If you're coffee lover, enjoy a variety of flavorful options at our
Organic Espresso Bar
, all made from fresh-roasted, locally-sourced beans that infuse every cup with a distinctively rich flavor.

CAFÉ & MARKET HOURS
Mon-Fri: 7:00am to 7:00pm
Sat-Sun: 8:00am to 6:00pm

CONTACT US
(760) 323-9487
naturesnaturalhealth@dc.rr.com

NATURES HEALTH FOOD MARKET
Just steps away from our café is the Nature's Health Food Market, where you'll find a wide variety of Organic Produce, Organic Products, Bulk Foods, Vitamins & Supplements, De-Toxifiers, Cleanses, Protein Drinks, Homeopathy, Ionized Water, and much, much more. You'll find helpful, knowledgeable staff ready to answer any questions and to make recommendations if you're looking for something specific.